As of the name, ANOTHER CHAIN REACTION. This time with your favourite Zombies.
Difficulty: Hard
Plants Found
Edit
Puff-shroom
Tall-nut
Squash
Repeater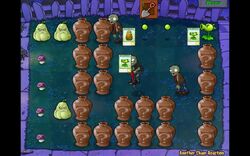 Zombies Found
Edit
Jack-in-the-Box Zombie
Pogo Zombie
Zombie
| Chain | Explosion! |
| --- | --- |
| | |
| One explosion... | Follows another. |
Strategies
Edit
There are even MORE Jacks in this stage. The Pogos don't help out either. Plant Puff-shrooms behind Tall-nuts, and Squash any Pogos you see. They are a nuisance in this stage. Also remember that Tall-nuts stop Pogo Zombies cold.