The 4th stage of the Day stages. This time, all rows have been filled, and thus they will remain so for the rest of the game.
==Overview==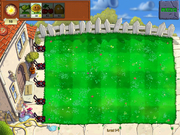 Difficulty: Moderate
Plants Used
Edit
Peashooter
Sunflower
Cherry Bomb
Wall Nut new.
Others Work...
Zombies Found
Edit
Zombie
Flag Zombie
Conehead Zombie

Number of Flags: 2
First Play
Edit
As like the last stages, plant Sunflowers until a Zombie shows up, and when they do, stop it with a Wall Nut in the 7-8th row. Then continue to plant Sunflowers, but once you get the Sun use a Peashooter to deal with your invaders. By now, more will have come, and your defenses should be ready by then.
===Replay===
As of the above, but you can use the Potato Mine instead of the Wall-nuts.
==Outcome==
้