Third Vase is the third Vasebreaker level. There are 30 vases (28 mystery vases) and (2 plant vases).
Difficulty: Medium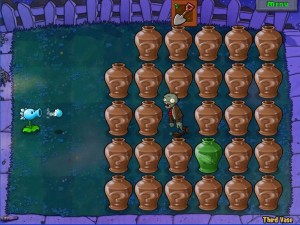 Plants Found
Edit
Wall-nut
Backwards Repeater
Hypno-shroom
Snow Pea
Zombies Found
Edit
Zombie
Buckethead Zombie
Dancing Zombie
Backup Dancers.
Jack-in-the-Box Zombie.
Strategies
Edit
Use the Hypno-shrooms to hypnotize the Dancing zombies and some Buckethead zombies. Place backwards Repeaters in the right side of your lawn, then place Snow Peas in the left side of your house.